Organize your videos and folders into the correct Space. 🚀
You can move your videos into a shared Space or create folders inside a Space to help organize your content.
How to move a folder

Please Note:
You won't be able to move an entire folder. However, we do have a two-step workaround for you to move a folder into a Space and out of your personal Library or another Space.
First, you'll need to share the content in your preferred Space, then organize your videos within your Space into a Folder.
Click to open the folder you'd like to move, bulk-select all videos, and click to Share with your preferred Space.

Open your Space, create a folder, and drag/move your videos into their respective folders.

How to move a video
Keep in mind that you can only move a video to one Space and the video will still be visible in your library once moved.
In the upper left corner of the video, select the "…" option and click move.

You can select a Space or its subfolder and then click move to action this change.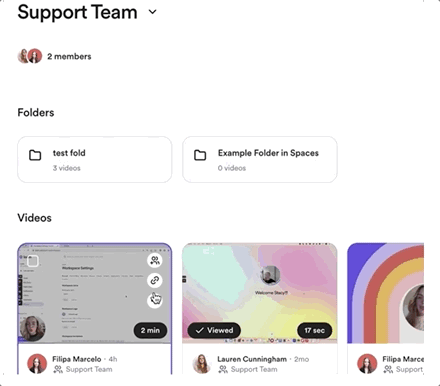 ⚠️ Note: Whenever you move a video between Spaces, it will be shared to the new Space and unshared from the previous one. You will also have the option to unshare the video from all other Spaces.👇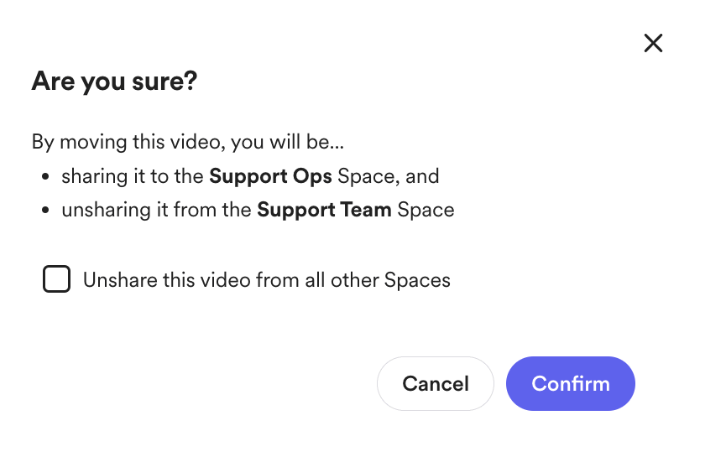 FAQ
Can I move the same video into more than one Space?
What is the difference between sharing and moving a video?
Moving and Sharing both give you the ability to make a video visible to members in a specific space.


The main difference is moving only allows you to make a video discoverable in
one space, while sharing allows you to make a video discoverable in multiple spaces. You can learn more here.
Questions, comments, concerns? Contact us here.
Happy recording! 🎥 😄