Loom library will help
your team stay organized, connected, and up to date.

🚀

Loom library is home for all of your video communication. In your Loom Library, you can find the following features to help you navigate through content:
Powerful search to easily find your videos - you can search the video name, tag, or phrases mentioned in the transcript.
Notifications center to provide focused, contextual updates with transcript snippets and in-line comment replies.
One-click video posting to bring transparency and make it easy to share a video with your team.
Navigating your Library
Discover all your Looms and Looms shared with you in the Loom Library.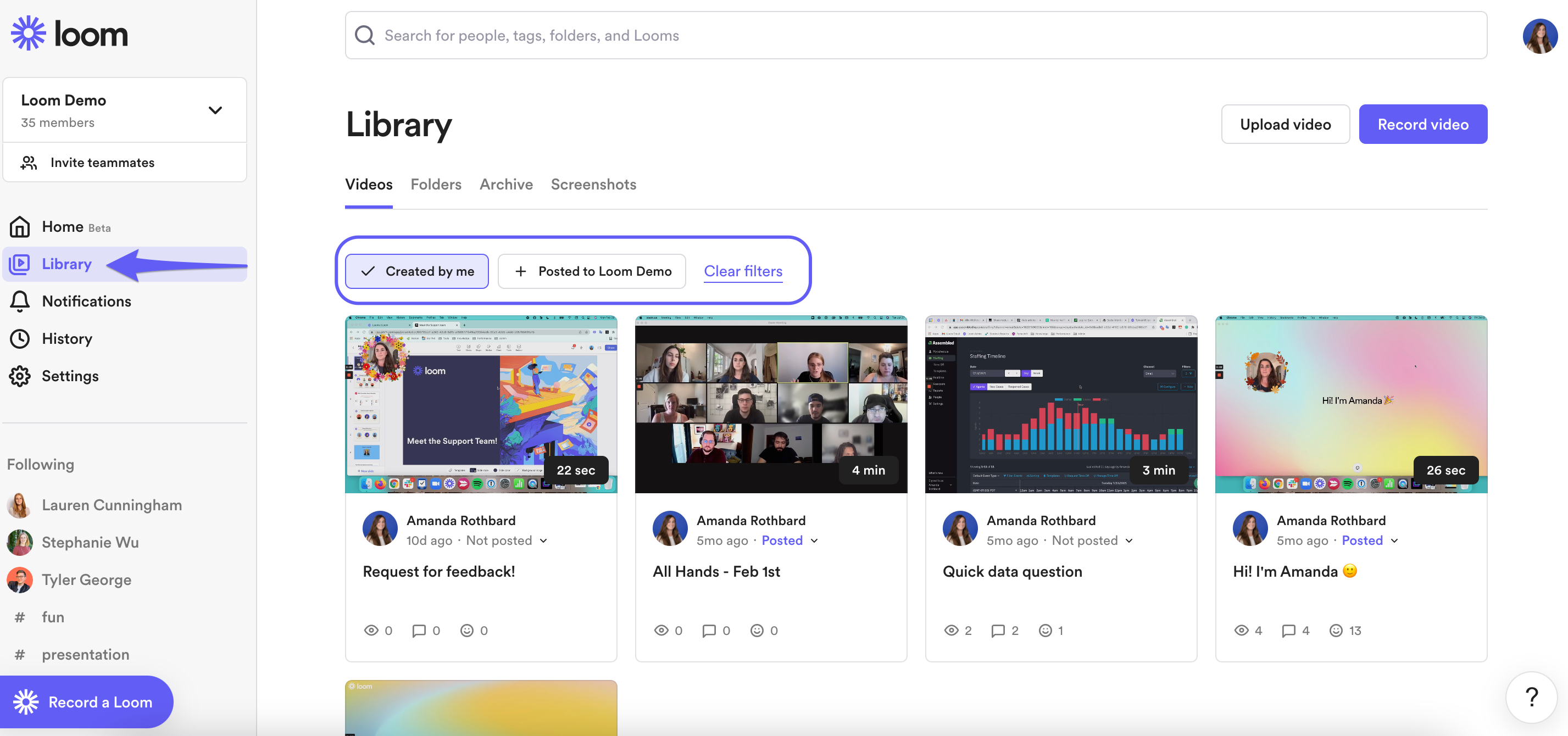 Sections:
Library: This will display all of your Loom videos + all Posted Loom videos and folders from Workspace members. The videos that once lived in your Team Library exist in the Library tab.
Created by me: A designated place to see all the videos you have created, this includes both your posted and not posted videos.
Posted: All videos you create will still be private by default unless they are Posted to your workspace. When a video is posted everyone in your workspace will be able to view it and it will appear on your Profile.
Folders: All old Personal Workspace and Team Workspace folders will live here.
Archive: Loom videos you no longer want to display in the places above.
Screenshots: All screenshots you take will be stored here.
Feature
How does this work?
Video History

Your history is a collection of the Looms you've viewed. This makes them easy to re-watch, re-share or follow up on.





Notification

The notifications page gives an at-a-glance view of what's most important. You can contextualize your video reactions from the transcript snippets and video clips. Here you'll find videos shared with you along with comments and reactions you've received.

You can reply quickly with in-line comments directly from your notification center.



Profiles
Profiles showcase your most impactful work. You can click 'follow' to people and tags to stay aware of what's going on within your organization

Note: Only videos that you have posted will show up in your profile.

Feature
How does this work?
Tags

You can add tags to videos you'd like to revisit later.

Tags allow you to add context so your team can discover relevant Looms. You can follow tags for organic, crowd-sourced organization. Loom with intelligently surface the important videos to the top.

💡 Proliferation of tags (#bugs, #bug, #qa) makes them less valuable for curated organization.


Search

You can search the video name, a tag or a phrase mentioned in the transcript.

Folders
All old Personal Workspace and Team Workspace folders will live here. You can choose to view your video only by selecting Created by me. If you'd like a folder to be available to your whole workspace you can toggle on Post this folder.



Questions, comments, concerns? Contact us here.
Happy recording! 🎥😄