Engagement Insights show how people engage with your video, not just who viewed it. 📊
Available to Workspaces subscribed to a Business or Enterprise plan, with Engagement Insights, you'll see:
Completion rate (on average, how much of a video viewers with a tracked session watched)
Call-to-action conversion rate (the percentage of viewers with a tracked session that clicked on your call-to-action)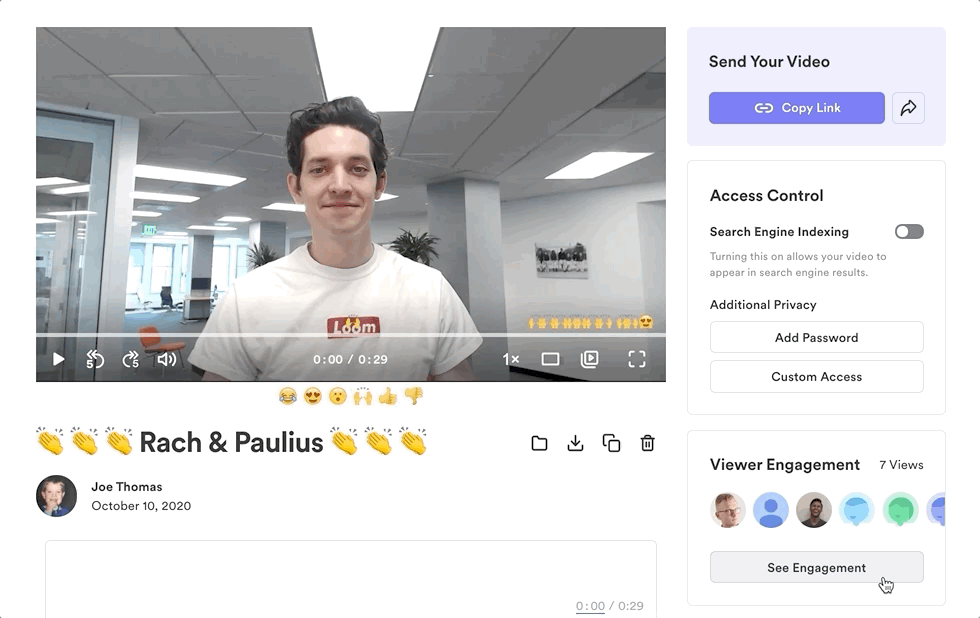 A video's completion and call-to-action conversion rate ranges are color-coded:
0-25%: Red 🔴
26-59%: Yellow 🟡
60-100%: Green 🟢
For more comprehensive information, you can export these Insights through a CSV export.
How are Engagement Insights different to the insights I see for my videos today?
Engagement Insights are additive to Viewer Insights, which are available on all Loom subscriptions. For each viewer with a tracked session, Viewer Insights show you:
Number of views and view times (the total number of times, and when, your video was viewed)
Number of comments and timestamps (how many comments were added and the times they were left)
Number of reactions and timestamps

(how many reactions were added and the times they were left)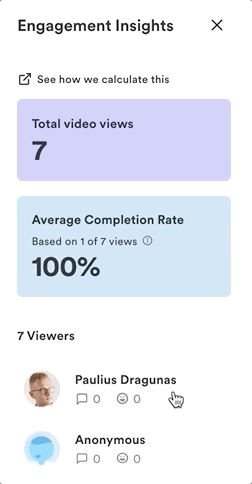 FAQ:
Who can see Engagement & Viewer Insights?
All members of a Workspace will be able to see Viewer & Engagement Insights for videos that are:
In their Personal Library (videos they have recorded)
In their Shared Library (videos they have been invited to edit that were recorded by other another Workspace member)
In the Team Library (videos that other members of the Workspace recorded and decided to make available to all members of the Workspace)
Why am I missing or seeing incomplete data?
Your video's Engagement Insights might be incomplete. Loom won't include data for the following types of views:
Views from before Loom's Engagement Insights feature went live
Views on the Loom for iOS app