Mic enabled yet still no audio? Try this. 🗣
If you have your microphone enabled, yet your Loom video has no audio, you can try to disable your Audio Enhancements by following these steps to resolve this. 
How to turn off Audio Enhancements
Part 1 
Search Sound in your taskbar, select Sound Settings > then Sound Control Panel on the right panel. 



From your Sound Control Panel box, under the Playback tab, right-click the default device – speakers/headphones and select Properties.


A Speakers Properties box will open, from here switch to the Enhancements tab, select the Disable all enhancements check box and click OK.


Part 2
Open your Realtek Settings by pasting path: c:\program files\Realtek\Audio\HDA\RtkNGUI64.exe into your finder. 


The below screen will display, from here ensure Enable HP Noise Cancellation is not selected, and also check for any other audio enhancement option which might be enabled





Once you've done this, please restart your device, launch your Loom app and try another test recording. ✨

If you're using either a Jabra or Conexant microphone, please follow these steps:
1.
Visit 
Jabra
to identify your specific model.
2.
 Scroll down to find '
Updates for your Jabra <Model>
'. Download the latest
Jabra Direct Setup Firmware
to your device. 
3.
 Make sure 
audio enhancement
are disabled following the above instructions.  
1.
Open your control panel, select
Hardware
and
Sound.
2.
Under the
playback tab
, double-click into your
Conexant Smart Audio HD
.
3.
Move to the
Enhancements
and tick
Disable all sound effects
.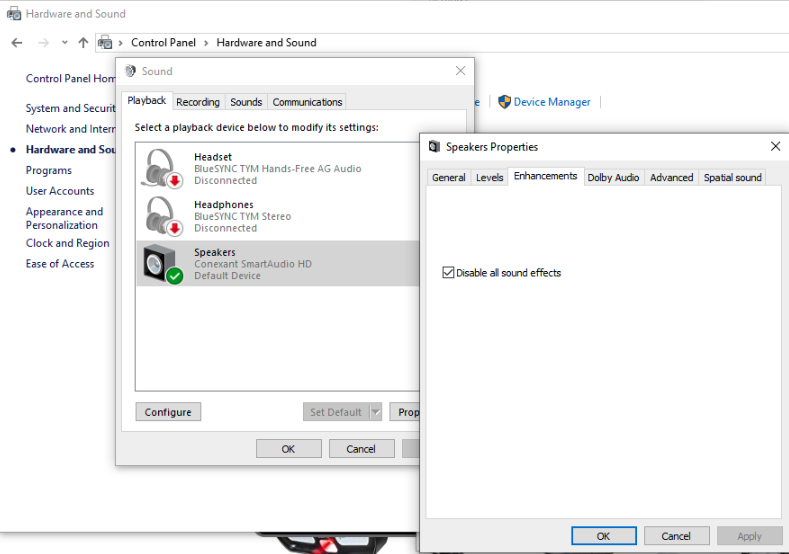 FAQ 
What are Audio Enhancements? 
Microsoft and third-party vendors have shipped audio enhancement packages designed to make your system's specific hardware sound absolutely perfect. These are referred to as Audio Enhancements in Windows 10/11. But sometimes, these very 'enhancements' can cause problems with audio and sound. If you face issues with your audio in Windows 10/11, you may want to disable Audio Enhancements and see if it helps.
Which devices will this affect? 
This will only work for Windows 10/11 users.
 Questions, comments, concerns? Contact us here.  
Happy recording! 🎥 😄