It's easy to communicate with your team on Slack with Loom. 🚀
Using Loom and Slack together is a great way to stay in your workflow and on top of all your Loom engagement and communications in Slack. For more information on using Loom and Slack, read our privacy policy.
You can install the integration in one of two ways:
Visit the Slack App Directory directly to download the Loom App.
Upon sharing a Loom or viewing a Loom link in Slack, you'll receive a notification to install the Loom App from the Slack App Directory
Connecting your Slack workspace to your Loom account
Initiating the installation flow will lead you to connect your Loom and Slack accounts. When connecting your accounts, be sure to select the intended Loom account with which you would like to connect your Slack account.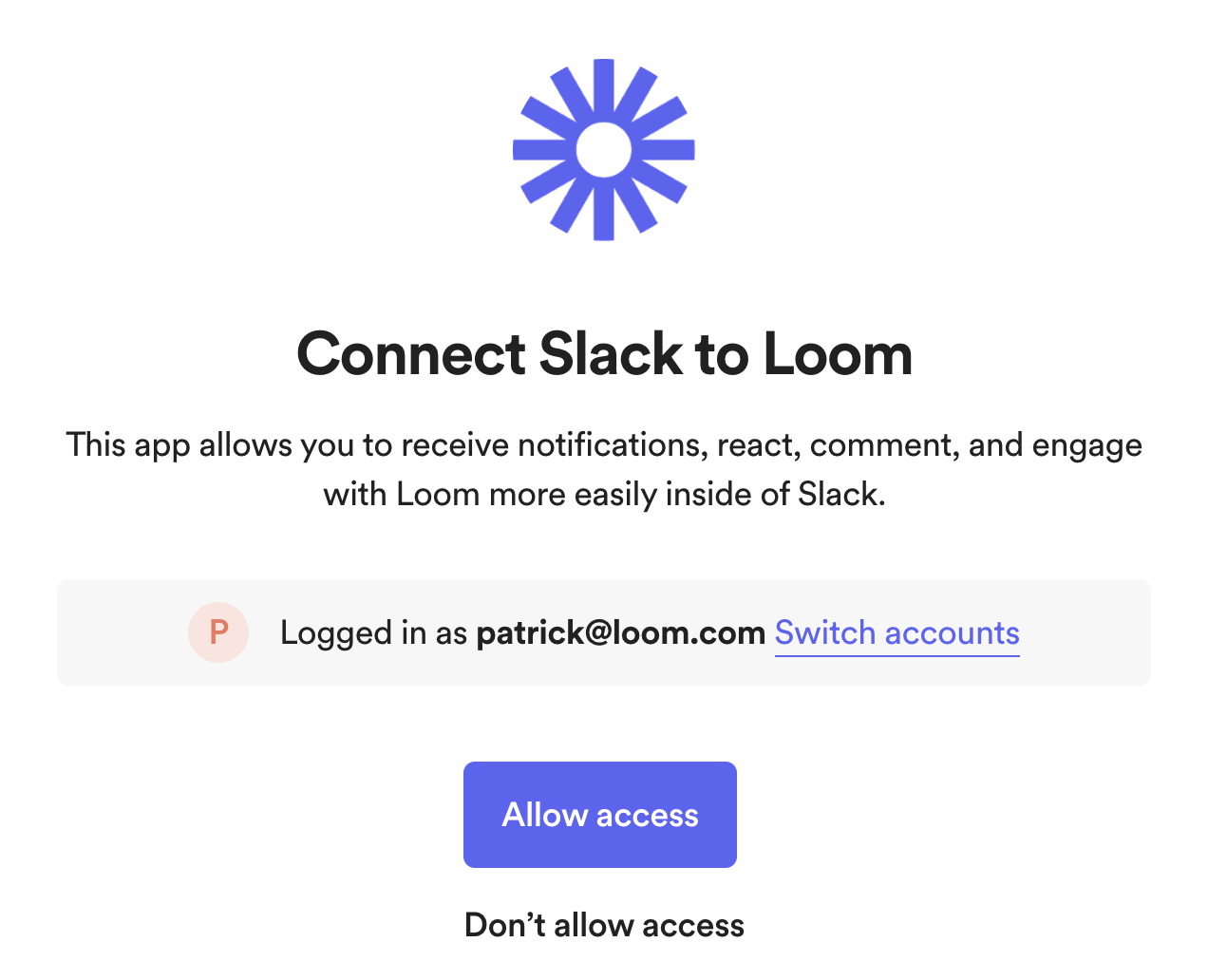 Here's how to initiate a Loom recording, record, preview, and share directly into Slack:
After you've added the Loom app for Slack, be sure you have one of our Loom recorders installed (desktop preferred!) to record. Initiate a Loom recording by typing the commands /loom or /record into Slack's text box to initiate a Loom recording.

Once you've finished recording...
Be sure to choose the Open in Slack option from your browser to go back to where you initiated the recording in Slack. Then select the option to Always open these links in Slack to always return to your Slack when recording Looms from Slack. Here, you will see a preview of the video in a message that is only visible to you, which you can choose to send or cancel.



Cancel will remove the message, but your video will still be available in your Created by Me Loom Library for you to access later. Send will send the Loom link into the channel or DM as seen below.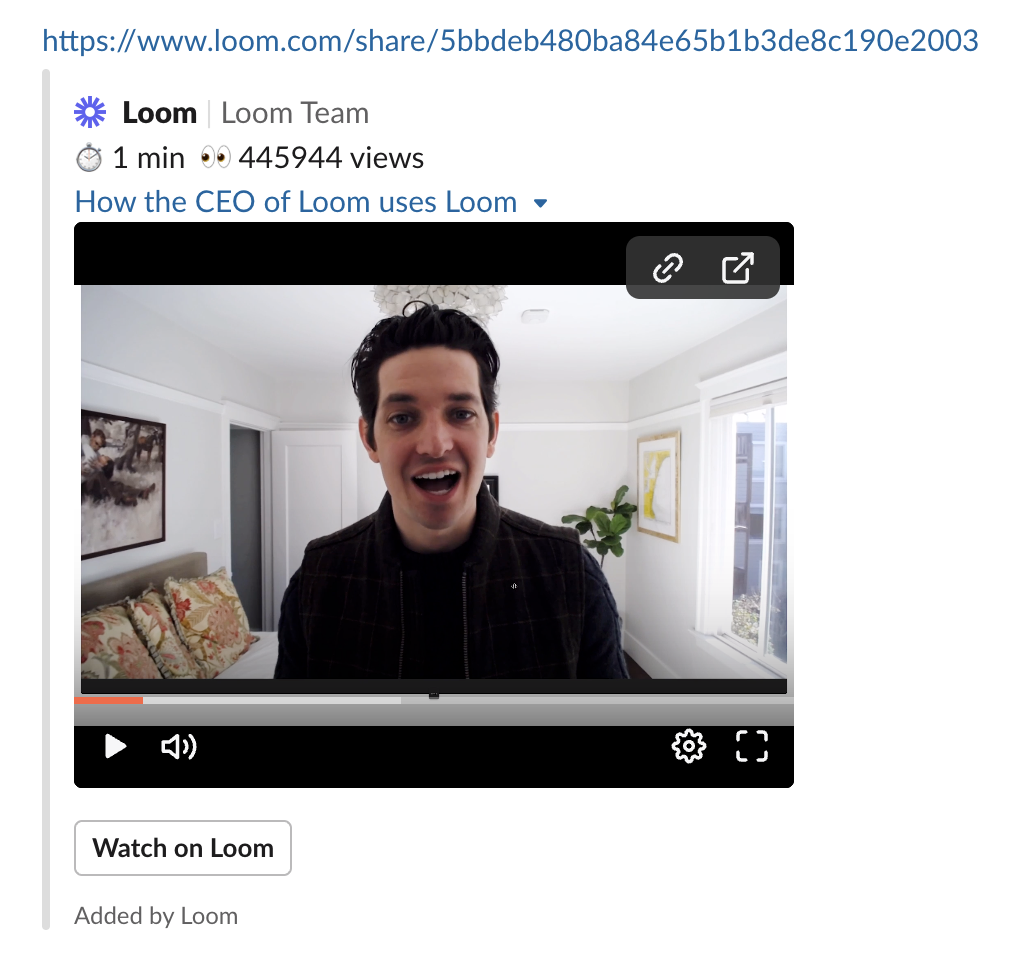 If you choose not to Open in Slack, the video will open on Loom.com instead. From there, the link can be shared and embedded anywhere you'd like, including Slack.
⚠️ Please note: Recording Looms from Slack is only enabled for Slack Desktop and Web experiences. It is not currently available on Slack mobile at this time.
Here's how to view and manage your Loom notifications in Slack:
Once you've authorized the integration, you'll see it listed under your apps. Here you'll get notifications if someone watches, reacts to, or comments on your videos.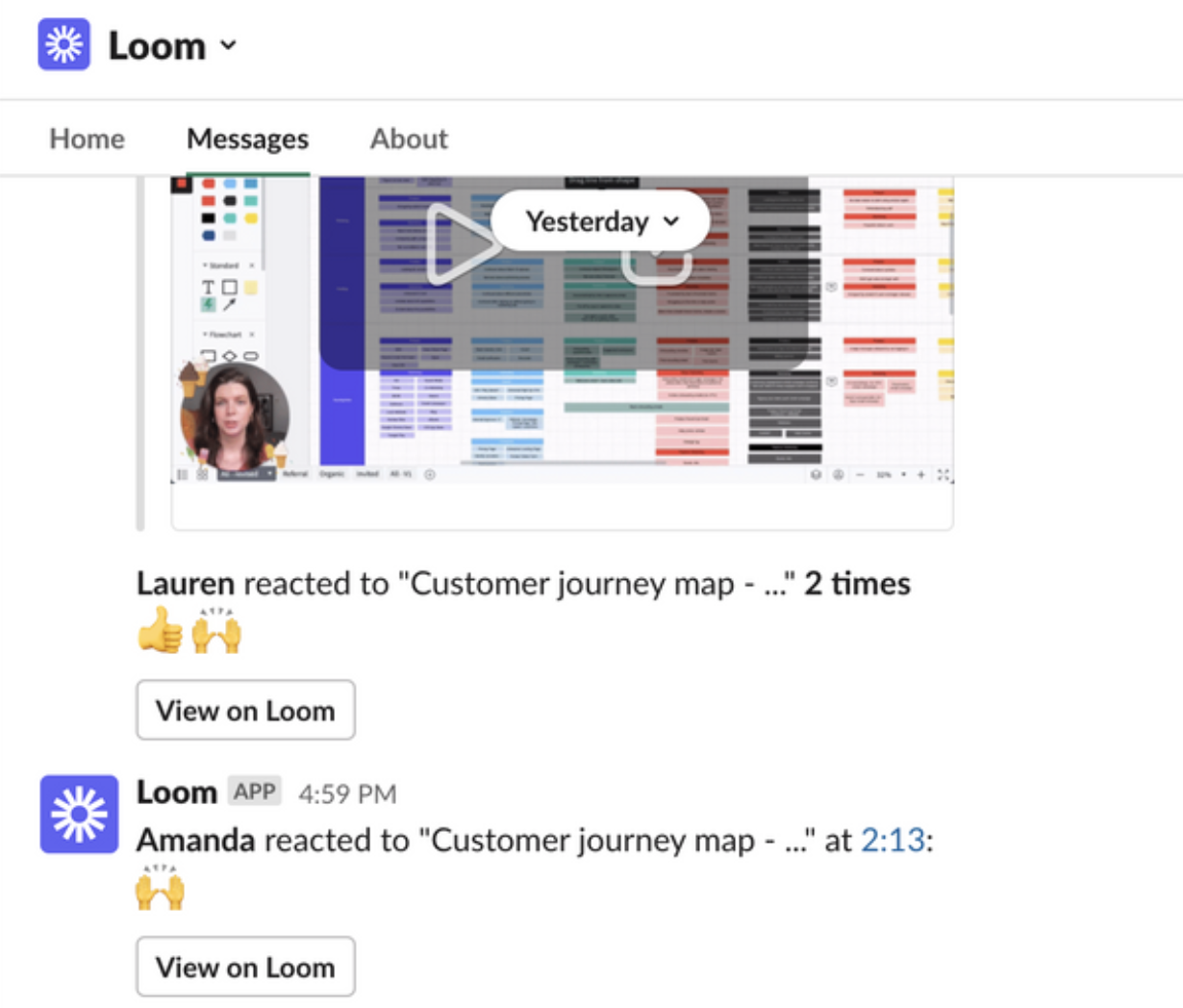 From Slack, you can enable and disable the notifications you receive in Slack by type directly from the Home tab.
FAQ
Can I share embedded Looms in Slack?
Yes, you can also paste your Loom link into a Slack channel or DM thread. It will expand so your recipient can watch it without having to leave the Slack app, like this: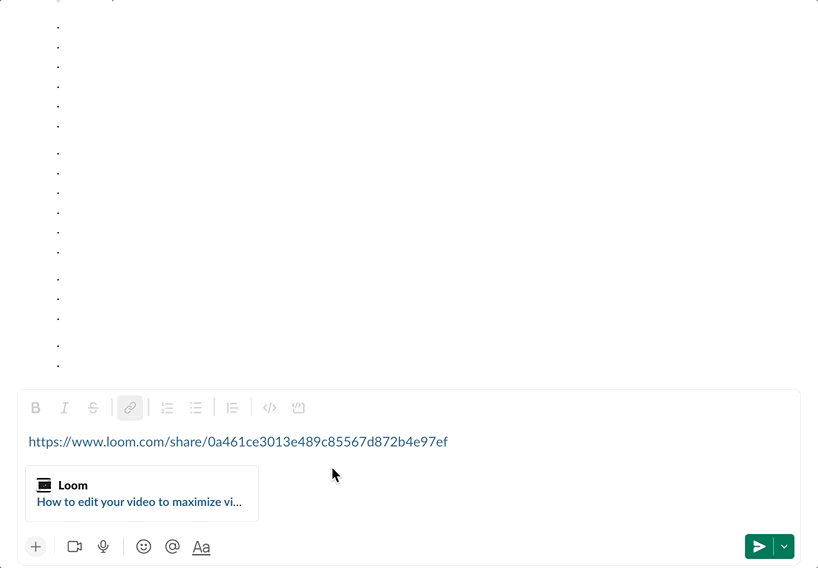 Can I embed Looms in Slack's Workflow Builder or in other Slack Integrations?
Yes! Loom embedding works in Slack's workflow builder and with any apps built on Block Kit. For example, you can include embedded Looms in Jira, Halp, Trello, Asana, or Linear tickets you create from Slack.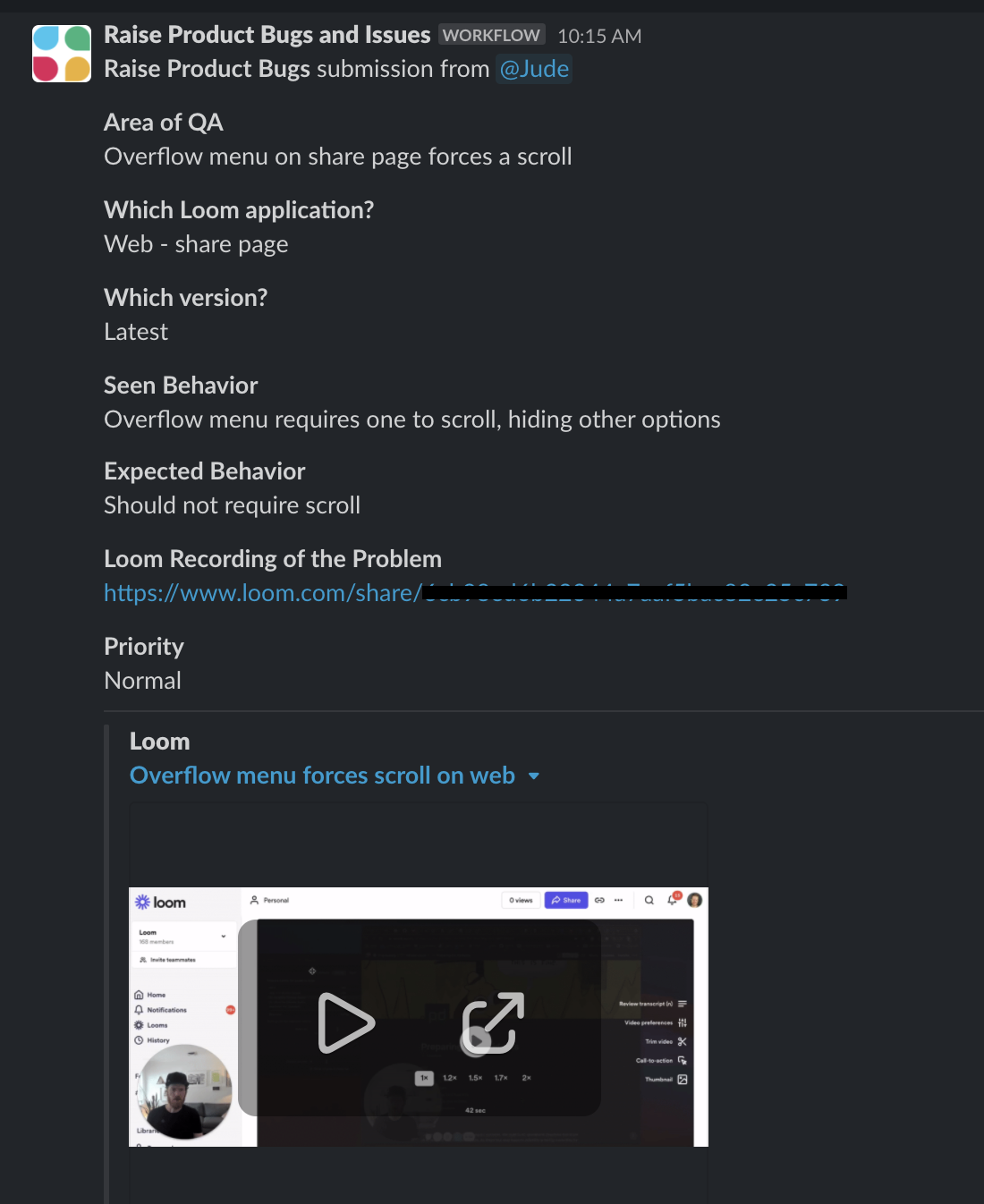 I signed up for Loom via a Slack identity link. Can I still use the integration?
Yes, but if your Loom and Slack emails don't match, you may end up recording looms into a different Workspace than you intended. You'll need to disconnect the Loom App from Slack and reconnect to the Workspace you intend to connect to.
Why am I seeing 'this is a private video' on the thumbnail in Slack?
If the video owner has the settings enabled to 'workspace only' you won't be able to watch this natively in your Slack thread or see a preview. Instead, click 'Watch on Loom' or ask the owner to change the video privacy settings to 'Anyone with this link can view'.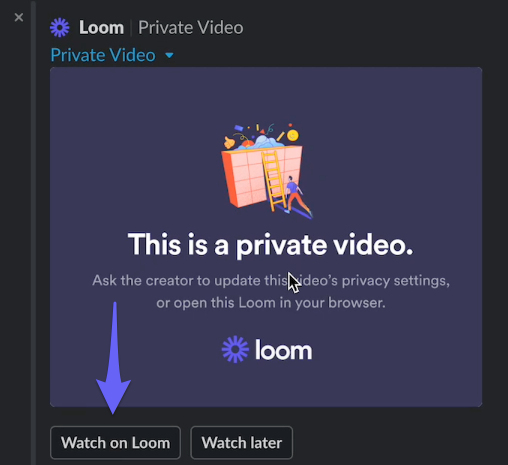 Why can't I find my videos or see notifications?
Make sure you have connected your Slack app to the right Loom account by visiting the Slack App Directory. If you're not sure, please visit the Loom app page in the Slack App Directory to revoke your authorization and reconnect with the intended account as a first step. Note: Users sometimes create a new Loom account with Sign-In with Slack links when their Slack and Loom email do not match. If this happens, you may have connected to a different workspace than intended.
Step 1: Revoking Authorization

Step 2: Add to Slack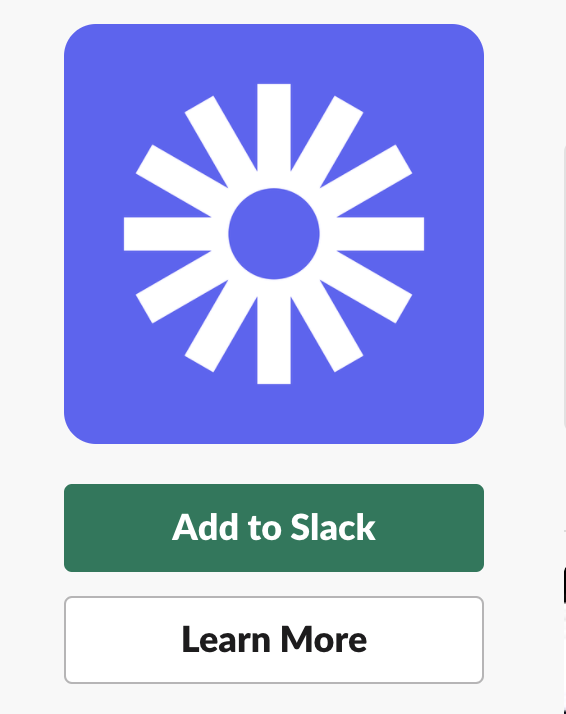 Step 3: Select the desired account with the "Switch accounts" button.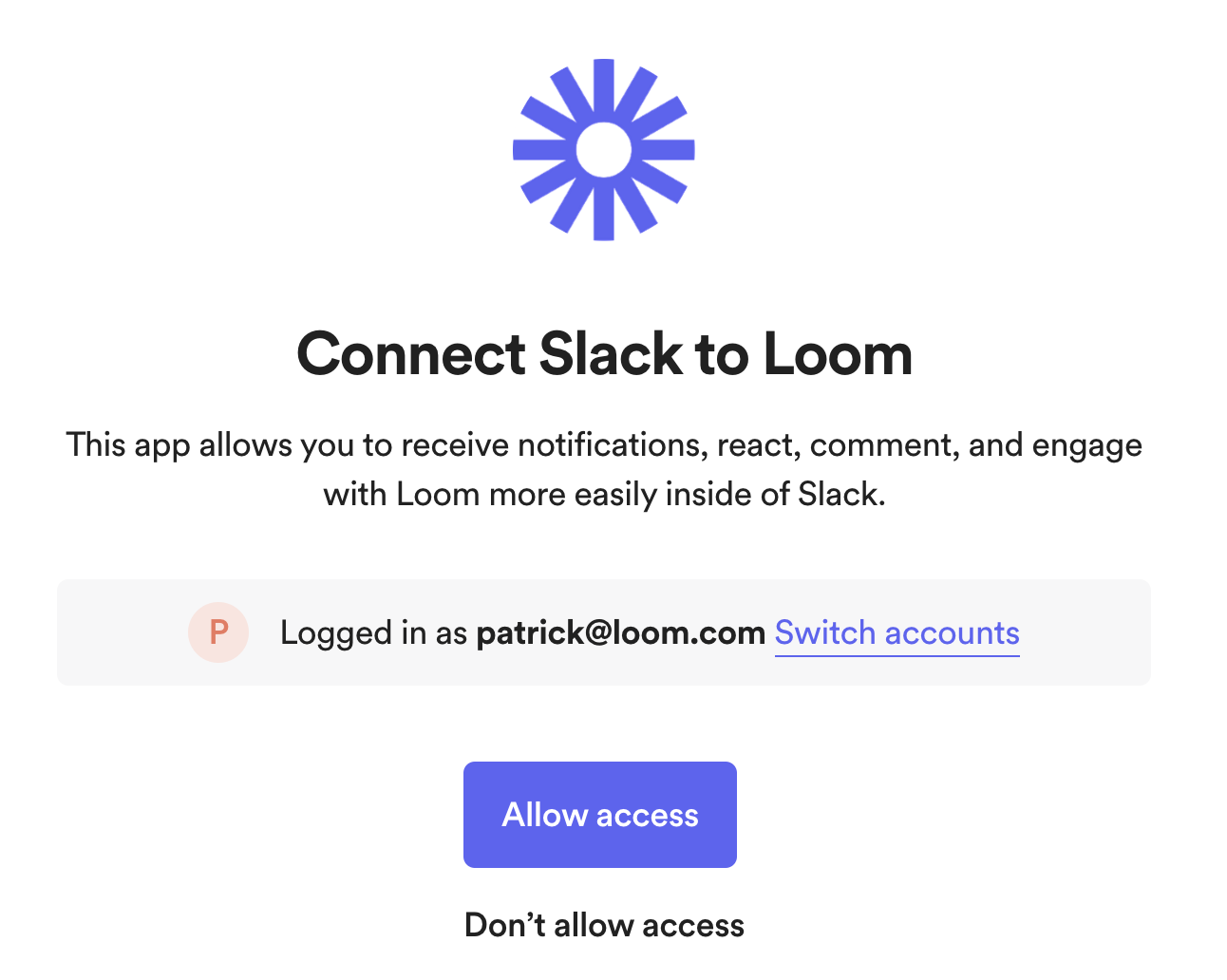 Questions, comments, concerns? Contact us here.
Happy recording! 🎥 😄