Understand your account's recording limits. ⏰
Loom Starter users have a 5-minute recording duration limit, and Education users have a 45-minute recording limit. There is no recording duration limit for Loom Business and Enterprise users, but we will check in after 2 hours to ensure you're still intentionally recording.
As you're recording, you'll notice a small timer located under the Stop button on the left-hand side as you're recording. The timer will be defaulted to on, meaning it will always appear in all recordings (just like the stop button), but it can be turned off in your desktop preferences so that it only shows when hovering. If you're on a Starter plan, the timer will start at 5:00 and count down until you reach 0:00, at which point your recording will end. Once the video ends, your video share page will open.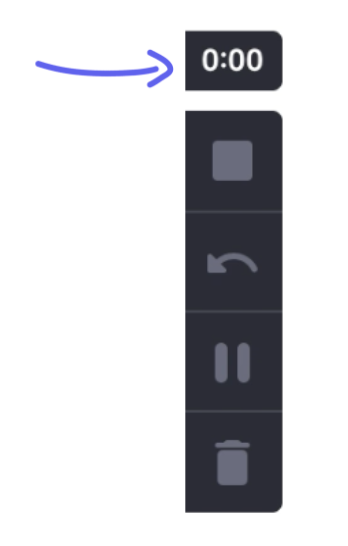 What is my video storage limit?
How long can I keep my videos on Loom?
For as long as you'd like. There is no expiration date for your videos. They'll be available until you decide to delete them. Enjoy!
How long can my videos be?
If you're a Loom Starter user, your video length can be up to 5 minutes. If you're an Education user, it can be up to 45 minutes. If you're a Business or Enterprise user, your video length limit is unlimited. However, we'll check if you're still recording after 2 hours. If you don't confirm, your video will automatically finish.
Questions, comments, concerns? Contact us here.
Happy recording! 🎥😄