Share your video in your All Hands Space so your team can easily find it. 🌈
All videos you create will be private by default in your workspace. This means they're visible to only you unless you choose to share the link or share to your All Hands Space. If you choose to share with your All Hands Space, your video becomes instantly discoverable to the members of your workspace and will appear in search results. Everyone in your workspace will be able to view it, and it will appear on your Profile as well.
All workspaces (no matter the plan) will have one automatically created space called All [Workspace Name]. Everyone in the workspace is a member of this space, and members cannot be added or removed. Content that was previously posted to the workspace can now be found in the All-Hands space.

If you want to only share videos with a select group of people and are on a Business, Enterprise, or Education plan, then you can create separate spaces and invite teammates to share with.
How to share with workspace members
To make a video visible to your entire workspace, you will want to share it with the All Hands Space. Here's how:
Navigate to your video share page.
From there, click the Share button in the right-hand corner.
Then toggle on Share to All [Workspace-Name], and that's it! 🎉 Your video will then instantly be discoverable to your entire workspace.

If you are on a Business, Enterprise, or Education

plan, then you have the option to Create a new space and invite specific team members to join.



💡 Keep in mind, all links you share outside of your workspace are still public by default.
Filter to videos Created by you in Spaces
When visiting your All Hands space (or any other spaces you are apart of), you can easily find the content you have shared by filtering to videos Created by you.


Your Loom profile is a collection of videos you have shared with your All Hands Space that will be visible to other members of your workspace.
Your profile will display all videos you have shared with your team, along with your name, location (optional), and role (optional).

What can I do with my profile?
Pin a video: You can pin videos that you want to show up first in your profile. This means if your colleague visits your profile, they might see your intro video or a project you're working on.
Following a profile or tag: You can follow your colleague's profiles to gain quick access to the videos they have posted or have posted videos under a tag. All profiles you follow will live on the left panel of your Library for easy access.

Whenever someone you follow posts new content, their name will appear in bold on the left panel.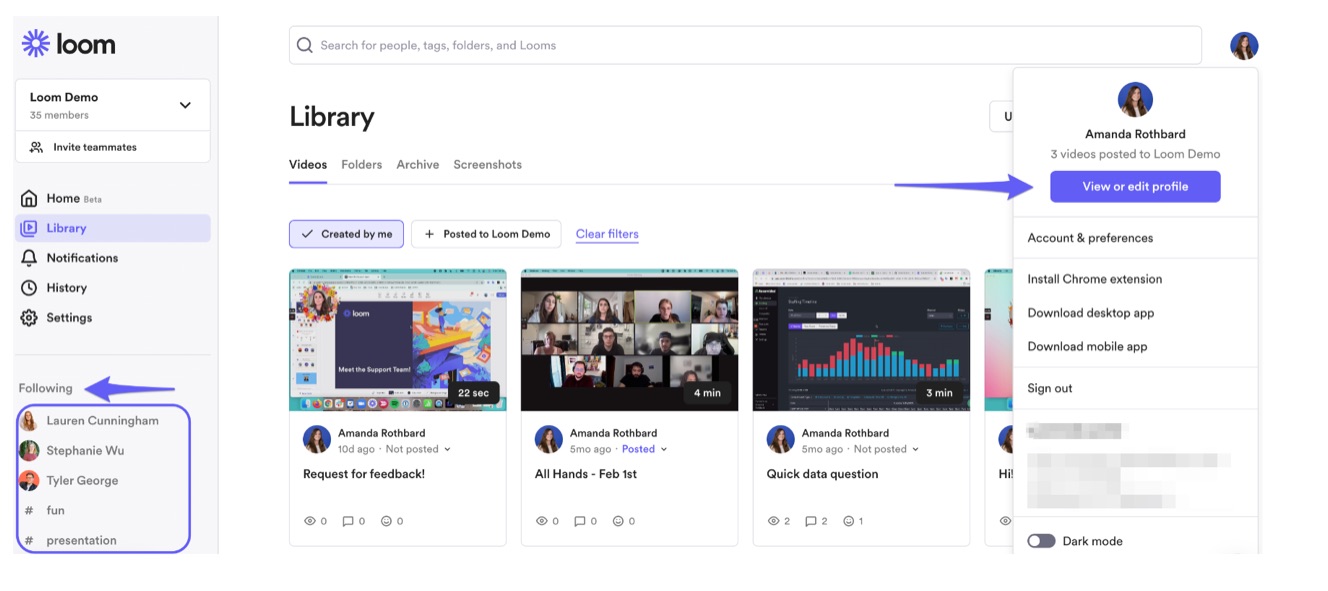 Questions, comments, concerns? Contact us here.
Happy recording! 🎥 😄