Get a transcript of your video for quick reading. 📝
Transcription allows you to automatically convert the speech in a video to text and display it alongside the video player for easy reading.
All Loom customers, regardless of plan, can access video transcriptions in 50+ distinct languages. 
Here's how to use the transcription feature:
You should see a Transcript option on the side panel of your video after you're done recording.



⚠️ Note that transcription is only available on videos you recorded after the feature went live, so you won't see it on any videos recorded before then. If you want to get a transcript for an old video, you can always re-upload it using the upload tool, which will give you a transcript for this new version of the video.



Your transcript will expand to the right of your video, separated into time stamps for easy tracking. From here, you can click on different timestamps in your video or different time stamps of the transcript, and each will jump around accordingly.



You can also copy the entire transcript to your clipboard using the copy button above the transcript or search for specific words or phrases using the search button. 
Closed captions & Subtitles
If you're watching a video that has a transcript, you can also view closed captions while the video plays. At the bottom of the player, you can toggle closed captions (CC) on and off, and you can drag them around.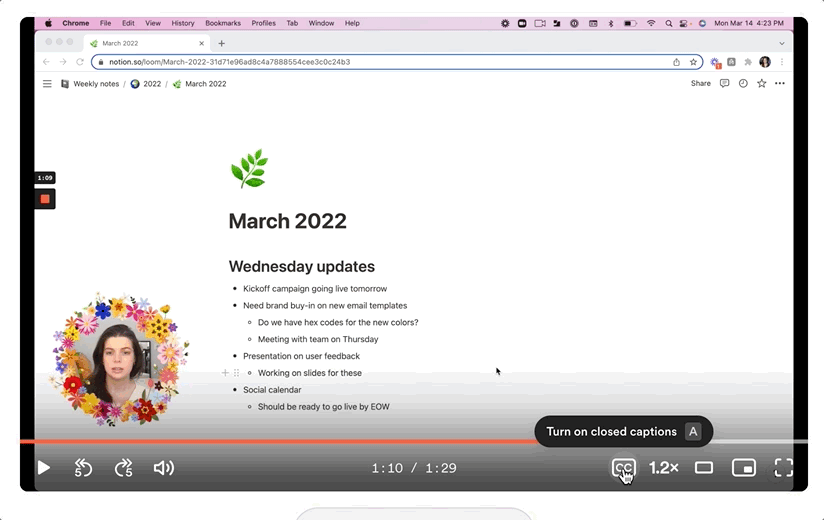 Please Note
If you've disabled transcription from your video settings, your viewer will not see the option to watch your Loom with closed captions.


FAQ
Can I download my video with closed captions or download my transcripts?
Unfortunately, at this time you will not be able to download your video with closed captions nor download your transcripts. We hope to provide this capability in the near future. 
Questions, comments, concerns? Contact us here.
Happy recording! 🎥😄