It's easy to organize your Loom videos. 🗂
You can view all your personal folders by visiting your Loom library. Any folders you previously posted for your workspace to discover will live in your All Company space.


Creating folder
To create a new folder, select New Folder at the top right corner of your Loom library.

Create a Folder within a Space 🗂
You can also create folders within a space! All you need to do is visit the space you want a folder to live and select New Folder at the top right corner. Note: Folders can only live in one space. You cannot share a folder in multiple spaces.
Moving videos to a Folder
To add videos to a folder, visit your Video tab, hover over the video you'd like to move, and click the three-dot menu. Then click Move, which will prompt you with a selection of folders to move your video into or create a new folder.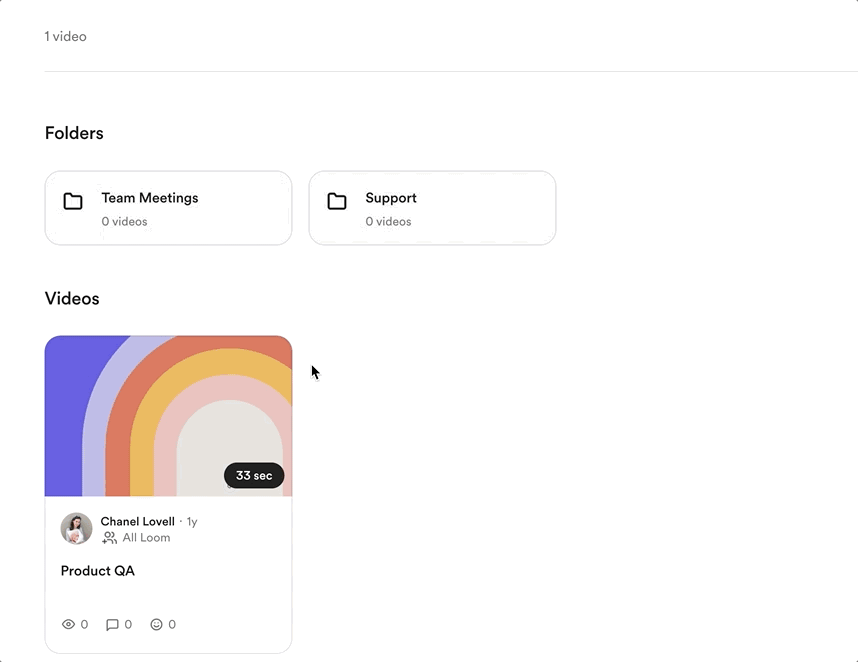 Please Note:
When you move a video into a folder in your Library, the video will only be present in that folder (you won't see it in your video Library).

However, if you move a video to a folder in a space, then the video will still be present in your Video Library.
Deleting folders
To delete a folder, first, select Archive from the folder options. Then go into your Archived library to delete it permanently. We've added this extra step as a safeguard in case you'd like to recover any videos later.
Make a folder public
If you want to share a folder with a wider audience, you can make a folder public. When a folder is made public, anyone who has this link can view it (no sign-in required).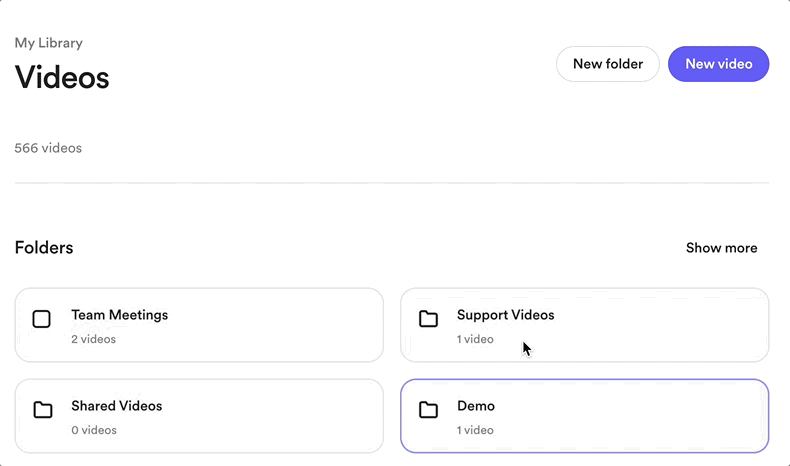 Note: The privacy settings for videos within a folder will remain unchanged when the folder is made public. As a result, any private videos in your folder will not be visible to the viewers you share the folder with unless you change the privacy setting to grant your viewers access.
👉More information about sharing your videos can be found here.
Questions, comments, concerns? Contact us here.
Happy recording! 🎥😄